NC
You've spoken about how improvisation enables a kind of "expansive music." Do you mean that in structural and/or spatial terms?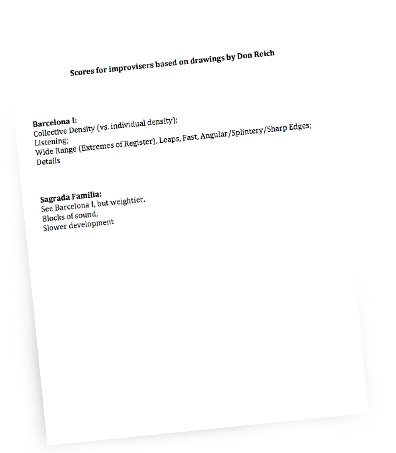 For me, the overarching idea of expansion through improvisation is that music created in the moment contains a myriad of possible outcomes, and thus is able to be something greater, something that goes beyond or builds upon the underlying architecture. I think it also implies or presumes an open or unrestrained approach on the part of the player (and listener), a willingness to not know what's going to happen or a willingness to discover the music as it's happening; along with the idea of a process of unfolding or becoming. This is at the metaphorical level, and resonates with the Sanskrit term spanda, the pulsating life-force that exists within everything and that allows for creativity as an expansive activity. But for this to happen, the structural elements, whether pre-composed or generated during the performance, have to be ones that favor or inspire spontaneous (inter)play. So, part of my inquiry is how to create structures that favor improvisational development and that have the possibility of creating a sense of spaciousness and connection within the listener, or between player and listener.

For instance, I often think about the player I'm writing for, whether it's myself, or an ensemble member. What is their language, how do they like to play? What kind of vehicle can I create that allows them to bring what they do best, a situation where they will enhance the composition? There has to be a balance between providing a sense of focus while giving room to the individual players to be themselves.

At the same time, it can be great to challenge oneself and others to find new ways of playing. When I write new music, I have to figure out how to improvise in a way that is logical to the composition, and I'm often forced to develop new skills and language that make sense in this context. So there's a synergistic relationship here that allows for growth and evolution, as I play with the balance of restriction and freedom.

Jazz Telemotions, part 3
NC
Does that concept of spontaneity jibe naturally with the jazz idiom as it's broadly defined, or are there subtle (or not-subtle) distinctions?
I think it does, if you have an "expansive" definition of the jazz idiom. To me, the improvisational aspect of jazz is the heart of the music. I know there are other qualities or characteristics that often inform jazz, and we couldn't say that any improvised music is jazz, but that spontaneity is what drew me to jazz initially, and has kept me engaged with this music all along.

Myra Melford plays blues piano
Though, I would say that my music, while informed by jazz, is also informed by other musics for which improvisation is an important element, such as the Blues and Hindustani music. As well, I would say that I've always been inspired by the more innovative jazz musicians of the '50s and '60s and subsequent developments in the '70s and beyond by both jazz and experimental musicians, and so have looked for new ways of composing for jazz and improvising musicians
Equal Grace, Be Bread
NC
Can we flip the equation and infer that musical situations that feel restrictive, or constrictive, are inherently unappealing to you?
For the most part, I think that's the case. I quickly discovered as a young teenager, that playing classical repertoire, while enjoyable, was not really satisfying my musical urges. Later, studying jazz in college, I felt similarly, that interpreting jazz standards according to conventions in jazz that predated the innovations of the 50s and 60s, also didn't satisfy me, or feel true to my own calling. So in a sense, I've had no choice but to seek out other ways of playing and like-minded musicians to play with. That's not to say that restrictions don't have a role in playing improvised music, as I mentioned previously. It's just a matter of defining what restrictions support and lend focus and inspire, as opposed to those that inhibit a satisfying musical experience.